Coastline Marine Redfish Challenge Tournament
Tournament Location :
Galveston Bay, Texas
Angler Participation :
Clint Barghi
Date :
June 27, 2009
Conditions :
Temp 94'
Tournament Results :
Team Ocean Kayak Clint Barghi finished in 3rd place with partner Jason Bryant
With the temp. on Sat running in the high 90's to low 100's it was going to be a tough bite not to mention the high pressure system we have setting on top of us right now. But with the heat and high pressure some pretty good stringers came in today... Taking first place and a payout of 1250.00 was Brain Little and Joe Peddy out of the Sabine Lake region with 15.4lbs.. I dont have the full story on what when and where but they did say they had there fish before 0700. Second place was "Team Crocs" Tim Young and Jason Catchings with a total of 14.0lbs and taking home 750.00 for their efforts... Third was "Team Ocean Kayak" Jason Bryant and Clint Barghi taking home 250.00 with a total of 12.4lbs. Congradulations to all the team that made the weighin and making it back safe to the trailer. Now since there was such a small turnout we couldnt pay the last place with two legal fish the enty fee back but Thomas Barlow ( texxan1 ) donated an O2 bottle system. Again I want to thank everyone who participated on Sat and hope to see all of you again in August..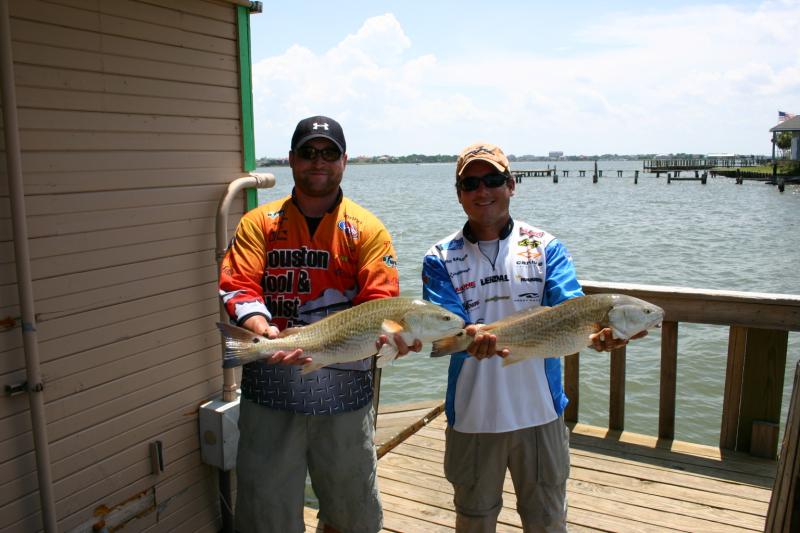 Clint Barghi and Jason Bryant 3rd place stringer