Outdoor Retailer's Expo
August 10-13, 2006
Salt Lake City, Utah
Team Ocean Kayak traveled to Salt Lake City, as a representative for Ocean Kayak and Johnson Outdoors. Team Ocean Kayak spent some time each day from 12:00pm - 12:30pm demonstrating the Ocean Kayak Big Game. This is Ocean Kayak's newest kayak made for the larger paddler. This kayak is very stable and easy to paddle.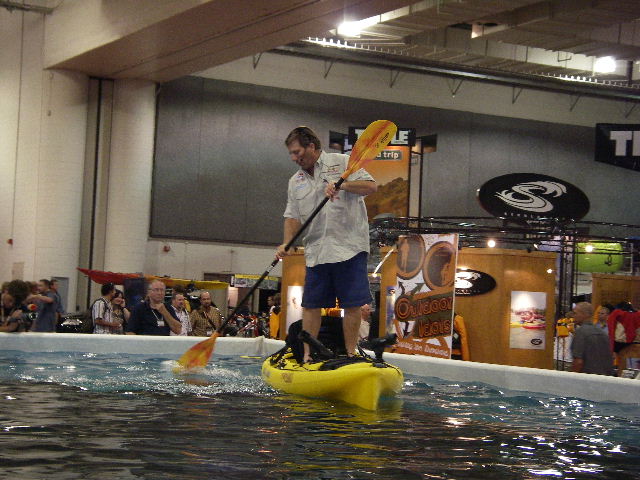 Captain Filip Spencer Demonstrates standing in the Ocean Kayak Big Game
Team Ocean Kayak also had the opportunity to demonstrate the new kayak stabilizer system produced by Scotty. This was a really neat item, light weight, this stabilizer added an additional thirty pounds of stability to any kayak. The stabilizer system was mounted onto an Ocean Kayak Scrambler, Ocean Kayak's narrowest kayak. The Scotty stabilizers really did the trick, making this boat both maneuverable and stable.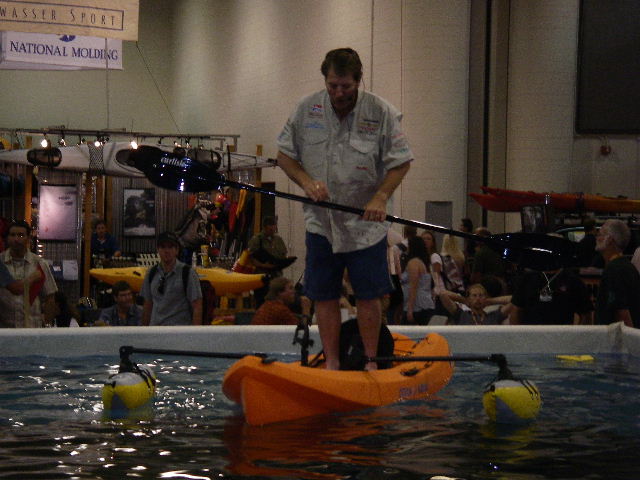 Captain Filip Spencer demonstrates the Scotty kayak stabilizer.