Specktacular Redfish Series Galveston, Texas
Tournament Location :
Galveston
, Texas
Angler Participation :
Vincent Rinando, Clint Barghi
Date :
November 15, 2008
Conditions :
Temp 50' Clear Very Windy
Tournament Results
3rd Place Overall
:
Clint and I had the opportunity to fish together solo on a team for the first time since we've known each other...we've fished tons of 4-5 man team events together...but usually when we pair up it Clint and his brother Cameron and me and my brother Sam for local tourneys....so I was pumped to get the opportunity to fish the Specktacular redfish series final event with Clint....weekend weather predictions were horrible..but sometimes that's the great equalizer....

Report
Launched off the ICW at 5am into 20+mph NW winds and headed into a bayou drain....the wind wasn't all that bad...but we had a 3.5' drop in tide Sat morning and the current coming out of that drain was almost too strong to paddle into...making very little progress we push thru the opening and paddle 1.5hrs into the creek....yep..1.5hrs continuous paddle in 25-30mph winds...not very fun...we arrive at our location and I decide to bank the kayak and walk north up a shoreline and throw...staying in the yak upwind was tough...you'd get a couple cranks of the reel and spin around or drive backwards at 10mph.....First cast at a point lands in a bush and a redfish spooks off the point...dang....jerk it out of the brush and speed burn it in and fire again....same spot...crap....third cast was the charm and it connected with a nice 27" 7lb redfish....6:20am and on the stringer...felt good after that paddle....Clint and I poked around the marsh and picked up several slots...but the biggest was only 5lbs...so we paddled out to relocate....the winds were near 30+ at this point and even down wind was a challenge...the rudders were useless as the wind would drive you where ever...no turning with the rudder....get back to the car and relocate....I decided to bank (wade) near the car while Clint launched and fished a drain about 200yds from the car....as luck would have it I hooked up a nice redfish....but it turned out to be oversized and had to be release..

As I'm releasing the fish I hear Clint Hoot and Holler from the bayou...that's a good sound...we meet up and Clint has a nice 27.8" redfish nearing 8lbs....so we call it a day around 2pm...

Hovering around 15lbs (16 with the live bonus) we were feeling so so about our chances...it usually takes 16lbs to win this tourney...but with High pressure, wind, cold, full moon ....I wasn't feeling too bad about our chances...

We finished 3rd place overall which wasn't bad considering we were the ONLY ones foolish enough to fish this tourney from a kayak.

The best part is that the top 3 teams qualify for next years Guide's Cup tournament in Apr-May. Can't wait to bust out the plastic boat for that one.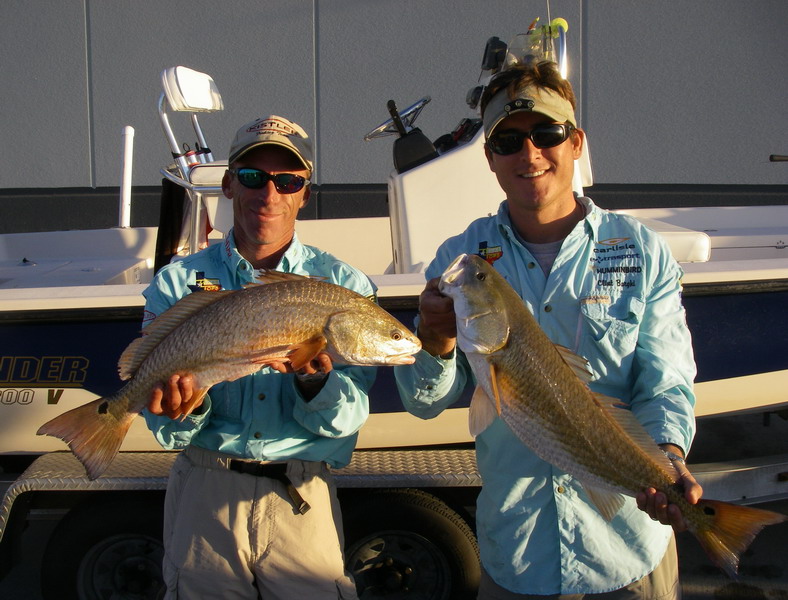 Vincent Rinando and Clint Barghi placed 3rd overall and an invite to next year's Guide's Cup tournament